Top Ten Ways to Improve Memory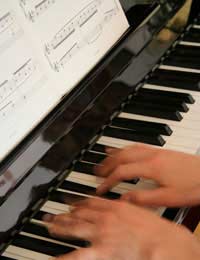 Have you ever marvelled at the memory of a friend or colleague and thought to yourself how lucky they must be to have a good memory? According to researchers, it isn't luck. Rather, it is a combination of genetics, experiences and lifestyle that contribute to the strength and quality of memory.
No matter what your age or current memory strength, you can improve your memory. By participating in good lifestyle management strategies along with the right activities and challenges, you can stimulate your mind and enhance your memory.
Get Enough Sleep
Study after study on sleep and memory conclude the same thing – getting enough sleep each night is important to support your memory. People who do not get enough sleep are more forgetful and struggle to remember and complete even simple tasks each day. Brain scans show decreased activity in parts of the brain that play a role in memory.
Play an Instrument or Listen to Music
Research suggests that music enhances many regions of the brain, including those that contribute to memory formation and storage. In fact, people with dementia or Alzheimer's disease show improved memory from learning an instrument.
Make Friends
A recent study looked at how socialising affects our memory as we age. It found that people who have strong social ties to family, friends and community groups were better able to delay the memory loss associated with ageing. By socially engaging with others, you keep your brain active.
Learn a New Skill
Sometimes it is far too easy to become complacent in life when your current skills seem to be enough for you to get by in work and in your personal life. But learning a new skill challenges your brain, helping form new connections and strengthening your ability to retain information.
Reduce Alcohol Consumption
Those who drink excessively show poorer scores on memory tests than their non-drinking counterparts. A UK study found that heavy drinkers were less capable with retrospective memory, which is the ability to learn, keep and recall previously presented materials. With all the other health problems related to heavy alcohol consumption, the effects on your memory give you another good reason to reduce alcohol consumption.
Eat the Right Brain Foods
Without the right healthy foods to support brain health, you are less likely to maintain a strong memory that lasts to your elderly years. Eating foods and drinking beverages such as salmon, blueberries and green tea can help support a healthy brain and memory.
Practice Focusing and Use Memory Tricks
One reason people struggle with a poor memory is because they did not properly learn the information in the first place. Focusing your attention on a new piece of information by taking more quality time to remember it can help. Also, try using techniques such as visualisation and association or chunking information – breaking it down into smaller parts that are easier to remember – to help you recall the information as needed.
Reduce Stress and Depression
High levels of stress along with depression raises levels of stress hormones such as cortisol, which is thought to suppress memory. Other changes to the brain involve neurotransmitters that are important in regulating sleep and memory. One of the best ways to support good memory is to reduce the amount of stress in your life and promptly seek treatment for mental health disorders such as depression.
Get Regular Exercise
Exercise has shown benefits to mental acuity and memory in many research studies. Those who partake in regular exercise can enjoy better memory and brain functioning. Even thirty minutes of moderate activity each day is enough to reap the benefits of exercise.
Become a Teacher
Teaching can help your memory and it doesn't mean that you need to be a professional teacher to benefit! Researchers found that when a person read information out loud to someone else, their own ability to understand and recall that information was improved in future tests. This works particularly well for students who can benefit by helping another student study. Others will find that sharing information about work projects or similar pieces of data can help enhance their memory.
A Better Memory for Life
There are many ways to improve your memory, from adding in brain skill techniques to reducing lifestyle habits that are known to harm memory. Try some of the simple but effective strategies mentioned above to help your improve your memory for life.
You might also like...