Interview Technique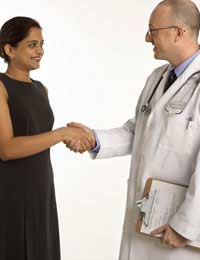 Interviews take many forms. Employers interview job candidates, police interview suspects, journalists interview celebrities and doctors interview patients. Often interviewer and interviewee have very different hopes about the consequences.
Job Interviews
Job interviewers hope to find the right candidate, while each candidate hopes to be the one. Many employers use psychometric assessments for potential employees. Nevertheless, the plethora of websites devoted to advice on job interview technique attests to the importance that is still placed on that vital first impression.
A lot of the advice is obvious yet sound. Before the interview find out everything you can about the company, speak to employees if you can, prepare questions that will highlight your understanding of the job. Have practice interview sessions with a friend, arrive on time, dress appropriately, make eye contact, don't fidget, don't make answers too long or too short, be positive, especially about yourself. Of course, problems for the interviewer may arise if too many candidates have read up on interview technique, and succeed in making a good overall impression. Then, the interviewers will have to develop their own technique in order to distinguish who is really the best candidate!
Police Interviews
Standard police interviewing strategies emphasise visual cues like eye contact, body movement like shifting in the seat and verbal cues like stumbling over words. Sometimes verbal and non-verbal responses during small talk before the interview are compared with the responses during the interview. But recent research has shed doubt upon the reliability of these methods. Experiments with volunteers either lying or telling the truth to police interviewers showed that use of visual cues was particularly unreliable.
Speech related cues were better, but far from infallible. The experimenters then tried placing additional mental stress on the interviewees by asking them to tell their stories in reverse order. It turned out that under this extra cognitive load, liars found it harder to maintain their stories, and police inteviewers did better at identifying who was lying and who wasn't. Maybe future police interview manuals will introduce the mental stress technique into standard procedure.
Journalistic Interviews
Journalists interview a wide range of subjects, for diverse reasons. Human interest stories are the commonest and the most readable. Preparation and homework about the subject is crucial for asking informed questions. For example, a journalist interviewing an actor who asks what his latest movie was will look stupid and lose his subject's confidence. Open questions are better than those that lead to yes or no answers. The classic journalistic cliché is "So how did it make you feel?" The answer is usually long and interesting enough that it catches the reader's attention.
Medical Interviews
All medical students are taught interviewing techniques, both as part of formal lectures, and by observing senior doctors. Whether or not they manage to internalize the principles into their standard dealings with patients has a great impact on their future career success. When a doctor interviews a patient, it's called "taking a history", and the ability to elicit an accurate and concise history is key to the doctor's ability to diagnose and treat the patient. It's far more important than physical examination and laboratory or imaging tests, however technically complicated they may be.
Important principles are simple yet crucial. When a doctor introduces himself pleasantly, and asks for the simple details of the patient's name, age, marital status etc, while smiling and making eye contact, he puts the patient at ease far more than he would if he simply read the information to himself from the patient's file. The calmer patient is then far more likely to trust him, and to be able and willing to give important information about his complaint. There are critical techniques relating to how the doctor asks questions about symptoms. Open questions like "How long does the pain last?", "Where does it hurt", "What kind of pain is it?" yield far more useful information than do leading questions like, "Does it last for about 20 minutes?", " Is the pain in your chest?", "Is it a crushing pain?".
Interviews and Reality
In all interview situations, one person is assessing another on the basis of a short conversation. On a psychological and philosophical level, the general question can be posed of how well we ever really get to know other people as a result of our interactions with them. How much we can ever understand their perceptions of reality and who they really are? This question becomes even more acute when it comes to interviews. Long after the interview, does it turn out that the employer chose the candidate who really knows how to get the job done? Did the police really find the true culprit? Did lots of people buy the newspaper? Did the patient get better? The proof of the interview technique pudding is really only in the eating.
You might also like...