Power Naps and Your Brain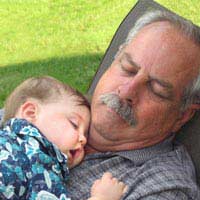 It isn't news that sleep is important. You probably already know that a poor night's sleep leaves you feeling less than alert and far from functioning at your best.
For some people, taking a power nap is just what they need to get them through the rest of the day. But new research points to a growing body of evidence that power naps can help your brain in more ways than you ever realised.
Challenges for Researchers
Differentiating between the memory benefits of sleep and those of just feeling less tired is a challenge for researchers. Despite all the research into sleep over the last decade, we still have yet to come up with conclusive evidence on the specific benefits of sleep.
Absorbing New Information
Scientists think that power naps during the day can actually help your brain to absorb new information. This is based on the results of a study that had participants take a ninety-minute power nap during the day.
Cognitive Testing After a Power Nap
The study volunteers took cognitive tests after their power nap and performed significantly better than those who did not get that extra boost from a nap. It suggests that the brain requires sleep to work through short-term memories, thus opening up 'space' for new information to be taken into the brain.
In all the cognitive tests, those who took a nap consistently outperformed those who had gone throughout the day without the power nap. When researchers looked at the electrical activity in the brain for each participant, they found that the process above could be occurring in a specific sleep phase.
How the Brain Works During Sleep
It is the phase between a deep sleep and dreaming known as stage 2 non-rapid eye movement sleep that could be where this process was occurring. Here, a fact-based memory is shuffled from the temporary storage part of the brain's hippocampus to a different region called the prefrontal cortex.
In a sense, the power nap takes you far beyond where your brain was before you took the nap. You can liken it to your email inbox. Here, it's full but when you sleep, you're able to clear it out and put it in a special folder so that you can take in new emails.
Real-world Differences in Sleep
Researchers do warn that the real-world effects could be different. This particular experiment was performed in a laboratory setting and people don't necessarily respond the same in their normal sleep states.
Power Naps or a Good Night's Sleep?
One thing to keep in mind, however, is that there is no evidence to confirm that a power nap is better than getting the additional sleep at night, meaning once every twenty-four hours. It could be that it's simply the overall amount of sleep that is making a difference. Still, if you can manage to get in an extra nap each day, it is possible that you are boosting your brain skills and opening up your brain to better take in new information.
You might also like...