Speed Reading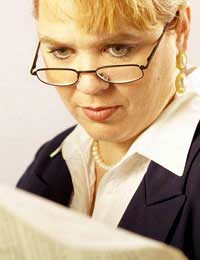 A man named Kim Peek is probably the fastest documented speed reader in the world. He can read over 10,000 words a minute, with 98% retention, and he does it by skimming two pages simultaneously, one with each eye. Peek is an autistic savant, and the Raymond character in the movie Rain Man was partly based on his phenomenal abilities, which include near perfect recall of over 7000 books.
His brain lacks a corpus callosum, the nerve bundle that connects the left and right hemispheres, but nobody knows whether this is the cause of his remarkable ability to read different material with each eye at the same time. There are no other known cases of particular speed reading abilities in other people who were born without a corpus callosum or have had it disconnected by surgery.
Speed is of the Essence
In our era of information overload, speed reading is big business. Bookshops are huge and filled to overflowing with both fiction and non fiction, the internet offers an ocean of text on every conceivable subject, and almost all professionals, as well as students need to constantly keep up with what's being published. There's more material out there to be read than there ever was before, and people have less and less time. So there's a growing demand for the experts and courses that claim that almost anyone can be taught to read 1000 words a minute or even more.
Overall Approach
Speed Reading experts tend to divide their instruction into overall approaches to reading texts, and specific practical techniques to use while reading. The overall advice may include approaches to what material you'll even choose to read – be selective as not every book on your subject is worth reading; start with an overview of the information – work "from global to detail"; distinguish between what you already know, and what is new, so that your reading time and efforts are devoted to the new. Overall such advice is generally sensible, and could be summarized as prioritizing both which books to read and which passages to focus on.
Practical Techniques
The specific practical techniques that can increase your word per minute count include things called photoreading, skimming and rhizomapping. One reading and memory guru, Tony Buzan, claims that with the right training, most people can get up to 1000 word per minute on the right text.
This is quite a leap, as the average college student can get through 250-300 words per minute. According to Buzan, if you want to speed read, first you have to learn how your eyes and brain work – they read other words either side of your main focus and skip around a page rather than moving smoothly from side to side. With practice the aim is to read whole chunks rather than looking at words letter by letter. Rereading passages, and vocalizing to yourself are apparently detrimental, as they slow you down.
More Haste Less Speed
Critics of speed reading say that comprehension rates aren't high enough, and that many types of material just aren't suited to the speedreading approach. If you speedread a masterpiece of English literature, you may grasp the plot, but you'll probably miss the finer nuances revealed by the author's choice of words, and though you may perceive the emotions you probably won't be able to experience them.
Drama and poetry are written in order to be vocalized and savoured, so you'll probably get far less enjoyment if you skim rather than taking your time. On the other end of the scale, a speedreader of complex technical texts may fail to fully comprehend complexities. The particular situation and abilities of the reader are as critical as the nature of the text. Readers who finds it hard to understand what they read will certainly benefit more from investing time and effort in building vocabulary than from learning to misunderstand faster!
You might also like...