How to Get Great Exam Results Using Exam Technique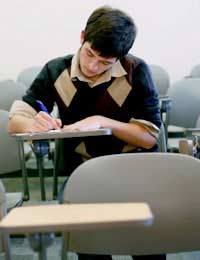 Some people are just good at exams. This can be an invaluable asset in school, university and many careers. But their IQ isn't necessarily particularly high. Their contemporaries may be a lot cleverer and may grasp things quicker in lectures and put in the same effort when it comes to revision. But despite seeming to drift through school and university in a bit of a daze, there are some students who always seem to do best when it comes to the exam papers.
Why? It's because of a basic principle that some students are lucky enough to be taught at an early age. It's not really rocket science. It even appears in the well meaning lists of exam preparation tips that litter university websites. But then it's often obscured by a lot of other practical advice about exam papers that is quite useful, but not essential. Yes, they're right that you should always bring a pen that writes, and check how long you have for each answer and don't drink too much beforehand, or you'll need to go to the toilet.
But more important than all that is the essential nugget that can be imparted by seasoned examiners or examinees who understand what's really going on.
Exam Technique is Like Learning to Drive
When you learn to drive a car, you don't open up a car manual or the Highway Code at page 1 and read it all with your feet up in front of the TV. Even if you've learnt all about the theory of parallel parking from a book, if you try it for the first time during your driving test, then you probably won't pass.
All exams papers are like that. You need to practice a lot before you do them. Theory alone is never enough. In order to do well, you have to first of all understand that the examiners are going to ask things that are central to the subject. Then you've got to find out what they will ask. That doesn't mean cheating, because if you go about it the right way, you can get a pretty good idea of what will come up, while doing absolutely everything above board and achieve excellent exam results.
The secret is quite simple and most people think that they know about it already. The trick is PAST EXAM PAPERS. They are the syllabus, they are the textbook, they are all you need to succeed and get great exam results. Past exam papers are NOT just for testing your knowledge - they're for acquiring it. From the very first day of revision, the surest road to success is to always focus exclusively and single mindedly on obtaining and doing ALL the past exam papers you can get your hands on.
Examiners just aren't that creative, and if you've answered everything that they've asked for 15 years, there's not that much else they're going to ask. That's because there probably isn't that much else of importance about the subject to be asked. In some universities, there are even patterns, whereby certain subjects come up every few years in a regular fashion on exam papers. For some exams there aren't many past papers available. In those cases, you need to find lots of books of questions of a similar level on the subjects as exam technique. Most successful candidates NEVER, EVER open a textbook at page 1 and start reading. Instead, they prepare files full of answers for essay exams and do reams of multiple choice questions for exam papers that have that format.
What About Exam Techniques and the Arts?
The main focus, up to here, is on exam technique in factual based, science subjects. But according to those who get the best exam results in arts subjects, the principles are not so distant. It seems that the trick in the arts is in attaining the attitude and writing style that the examiners want. There are sometimes students who flail about a lot during their studies, but somehow get it together in exam papers by adopting the essay tone that speaks of a spark of creativity and slightly quirky worldview that the examiners are looking for. They may never suspect that the candidate has in fact never got round to reading some of the set texts, but just has good exam technique.
Will Exam Technique Work for Everyone?
Of course, none of this represents an easy way out in exam papers. This isn't a miracle key that anyone can use to succeed. You need to devote a lot of time and persistence if you want this exam technique method to work. But if you've got that time and commitment available, why not use it to get results?
However much we may rail against it and bemoan the fact that exam papers may not reflect knowledge, in the real world, exam results do tend to count for a lot, career wise. If you're going to do them, it makes sense to do them well.
For example, a Cambridge medical student with a phenomenal IQ and a remarkable memory was baffled as to why his exam results had been relatively poor, culminating in a 2.2 degree. He had always opened up the textbooks and started learning the subjects from the beginning. He put hours of time and huge amounts of dedication into it. He learnt a lot of things. But he didn't get any perspective into what was important about the subject. Only after he became a successful doctor, a colleague explained to him that the only way to gain that perspective was PAST EXAM PAPERS only - backseat for textbooks. His marks got better and he shone in his subsequent professional exams
You might also like...
pls can some one tell me the clues to pass my exam and be the first am tired of 7th position
pampam
- 29-Jan-16 @ 9:15 PM
I always prepare best for my exams but I never get first position or excellent result.I m in class six plz some one answer my question.thank you
gullu
- 26-Sep-14 @ 9:17 AM
i did well in my exame but i dint get good result as i axpected. what to do for get excellent result this is my last year of b.a english. n i want to do best. n want a gold medol with my degree, plz somebody can help me that how to do preparition thank you..
sandy
- 13-Aug-12 @ 2:46 PM
Why its very hard to pass exam in science when a student of arts can get passed easily then the student of science
Max
- 13-Feb-12 @ 4:38 AM
Why some students can remember the lesson, but some of students can't remember in the same times ?
Annie
- 18-Jul-11 @ 6:30 AM
If you want to get good exam results you will have to do well and revise before the test and also the good way is when you start the exam drink some orange juice to get your brains stimulating.
nick
- 21-Mar-11 @ 7:32 PM