How Long Do Young Children Take to Process Information?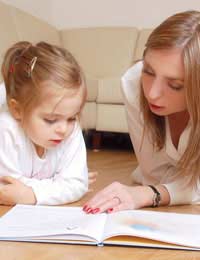 Q.
When using open ended questions to young children (Early years/Foundation stage) - how long in general does it take for a child to process that information? Ie. How long a wait do you wait to add more to the question?
(K.C, 13 July 2009)

A.
Your question is an excellent one and no doubt, one that many teachers and parents ask as they want to ensure children have the best environment to develop cognitive learning skills. However, the answer is not a simple one and varies depending on many factors – as we will soon see.
Understanding the Foundation Stage
In the foundation stage, kids will already have emerged from a huge range of diverse backgrounds and learning experiences. The aim in this stage is to enhance and build upon these experiences by giving kids the right learning tools and skills to help them succeed both in school and in life.
Children will learn to separate facts from opinion while also brainstorming and learning how to develop their ideas. They will learn how to think of ways to form solutions to problems, set goals and make predictions.
Processing Information and Answering Questions
Most experts agree that children need the time and space to think about a question before they can provide an answer. They will need to prioritise and balance out the pro's and con's as well as have the space and time to speak too. They need space to explain problems and ideas along with aspects of the question they may not sufficiently understand.
That all being said, there is no definitive time required that experts agree is a standard for allowing children space to think. While space is recommended, this should be given with respect for various 'cues' that a child shows to demonstrate cognition. What this means is that you will need to regard the question and answering as a mutual process whereby you respond to the signs of cognition – verbal or physical.
Paying Attention to Cues
A child might show confusion or perhaps verbally indicate misunderstanding of the question. Each child brings his or her own background and personal experiences into the equation. Combined with the specifics of the question asked, this background will play a role in how much time a child needs to understand the question and provide a response. The level of depth required could be significant for one child while another may be familiar with the language and subject matter such that a response is quite rapid.
Showing Encouragement
Others will need support, encouragement or additional resources. So as you can see, enough time and space are important but instead of approaching this topic with a stopwatch, we can all do well by using a child's individual cues to develop cognitive learning skills.
You might also like...
I had brain trauma as a child from the age of ten yrs oldafter falling from a swing park shute in the early 70s as a resulti have problems remembering things in generaland I have a slight affliction down left side of body ,I am now 53yrs old and wondered if I could get help retrain the memory side that had been damaged all those yrs ago I am certainly not looking for sympathy as I have overcome a lot since then all I want to do is remember things as I found it hard at school and college from an exam point of veiwis it possible as the brain is so unpredictable could you please help.....kind regards carolann Watson.not
freckles
- 29-Nov-15 @ 10:05 PM