Social Skills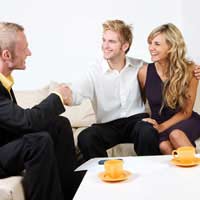 Despite claims made by Simon and Garfunkel, no man is an island. All human beings need to be liked and accepted by others. We're sociable animals, so our social skill levels may well be the most important determinant of happiness and success in life. We all strive for satisfying relationships with friends and family and rewarding, fulfilling careers. Whether or not we get them often depends to a large degree on our social skills.
Nature or Nurture?
Are we born with social skills sets or can they be learned?To some degree, our ability to interact positively with others, to feel relaxed, to establish rapport and build relationships, seems to be hardwired. But the good news is that for most people, social skills aren't immutable genetic realities like height or eye colour. To a certain extent, social strategies and techniques can be learned and can make a difference.
Social Hardwiring
Recognition of faces and recognition of emotion develop early on. By age one, a typically developing baby knows his mother's face, and responds to the emotional significance of her smile. By age three to five, children develop a theory of mind, whereby they grasp the fact that other people have thoughts, emotions, intentions and feelings that may differ from their own. This social responsiveness forms the foundation that our social skills are built on. People with autism have difficulty in developing even basic social skills, and many researchers believe that it's because they lack a theory of mind. But for most people, there's a wide range of normality. Some people are natural extroverts who feel relaxed in any social situation, listen well, empathise with others put everyone at ease. Others are shy and introverted and stressed out by social occasions.
How Can You Improve Your Social Skills?
Some of the most sensible advice is pretty straightforward. Just like with any skill, the old maxim "practice makes perfect" applies. Shy people who force themselves to get out and socialize, make conversation and interact, often find that they start to feel more comfortable in social situations that they used to avoid. The more comfortable you feel, the more likely it is that you'll relax and be yourself, and lose the inhibitions that have held you back. Sometimes specific techniques are recommended, like mirroring the person you're talking to, a method that good communicators use naturally to build up rapport. There are also acronyms, like SOFTEN (Smile, Open posture, Forward lean, Touch, Eye contact, Nod). But if just remembering the techniques adds to the stress you're feeling in a room full of new people, the value may be limited!
War of the Sexes
Some of the differences between men and women are obvious and indisputable, while others are more subtle. It's a common observation that men tend to be more aggressive and competitive, while women often cope better in emotional and social situations. Humans aren't unique in this, and brain structures seem to reflect the contrasts, as researchers showed when they examined the brains of 21 primate species including rhesus monkeys, chimpanzees and gorillas. The brain regions that control aggression and sensory motor skills were more developed in species where male competition was most pronounced. By contrast, the largest part of the brain, the cerebrum, was bigger in primates with the most sociable females. Another study showed that babies who'd been exposed to higher levels of testosterone in the womb had more limited vocabulary and poorer eye contact than those in whom testosterone levels were low. According to this, male hormones seem to actually impair social development. If you're an advocates of girl power, and the males around you seem to be getting too aggressive or competitive, those little research tidbits may provide great ammunition!
You might also like...