Optimise Your Child's Cognitive Development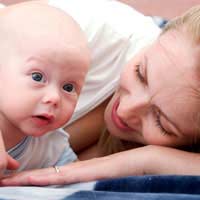 Just sixteen days after an embryo is conceived, a structure called the neural plate begins to form. A few days later this develops into the neural tube, which looks like a fat worm stretched along the back of the embryo. By 27 days, the tube closes and begins to develop into the brain and spinal cord. Brain growth and development occur at an explosive rate, throughout the next few years, so that a child's brain reaches 90% of its adult size before age 4. The period from conception until about the 3rd birthday is a critical one, where the brain is developing at a phenomenal rate, and experiences both positive and negative can have a dramatic and lifelong effect on cognitive development.
Early Starts
Brain development is highly sensitive right at the very beginning, when the neural tube is closing. If the tube doesn't seal properly at the head end, just 4 weeks after conception, the brain will not develop at all. This is called anencephaly and is always fatal. If the tail end doesn't close, the child may be born with spina bifida, a condition which may cause no symptoms or may be highly disabling, with paralysis and loss of sensation.
The good news is that taking folic acid supplements every day, from one month before conception until the end of the first trimester of pregnancy can greatly reduce the risk that your child will develop a neural tube defect. A mother can influence her child's brain development before birth in other ways as well. Poor nutrition and exposure to drugs, smoking and alcohol can cause serious brain development problems starting in utero, as they disrupt the formation and wiring of brain cells.
Feed Your Child's Brain
Nutrition has a great impact on brain development from mid gestation until about age 2. Brain size at birth is affected by the quality of the mother's nutrition during pregnancy. Pregnant women should eat about an extra 300 calories per day, including 10-12 grams of extra protein, and should gain about 20% of their ideal pre-pregnancy weight After birth, quality of nutrition is critical for brain growth. Breast milk offers a perfect mix of the right nutrients in the right proportions, and studies have shown that breastfed babies do end up more intelligent than bottle fed ones. Until age 2, children need lots of fat in their diets, because the nerve cells in their brains are rapidly getting covered by the fatty myelin sheaths which they need for optimal function. This process is called myelination, and is critical for brain function development. Again, breast milk is an excellent source for all the right fats.
Children who are seriously malnourished in the early years (not just picky eaters, but severely deprived of calories), end up with small brains, and lasting cognitive and behavioural problems, like slow language development, low IQ and poor school performance.
Emotions and Learning
At birth, a baby's brain contains 100 billion neurons-that's as many nerve cells as there are stars in the Milky Way. After birth, brain development consists of wiring and rewiring the synapses that connect between neurons. Up until about age 3, the brain creates many more synapses than it needs. Those that are used a lot become a permanent part of the brain, those that aren't get eliminated in a process called pruning. Early experiences are critical for synapse formation, because young brains are the most plastic, flexible and able to learn. All the evidence suggests that the most important way you can help your child's brain to develop and learn is by ensuring close, early, strong emotional attachments to parents or caregivers.
Expensive toys, flash cards and rote memorisation of numbers and letters aren't the best way to optimise your child's brain development. More important is emotional and social development, and a childhood as stress free as possible. Synapses created in an environment of love and understanding are most likely to lead to better learning, and those that develop in response to chronic stress are more likely to be associated with cognitive and behavioural problems. Connecting with you helps your child's brain to develop, while children who don't feel safe and secure are less able to learn. Children get interested in learning when learning is valuable to the people who matter. So throw away the flashcards, and shower them with hugs and kisses instead!
You might also like...