How Teachers Can Improve Brain Skills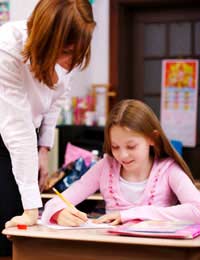 Teachers play one of the largest roles when it comes to developing the brain skills of children today. Their responsibility to nurture the growth of children is one that should be recognised. While there are many tools already in place for the teaching curriculum, are there any new ideas and research to help teachers improve brain skills?
Different Kinds of Brain Skills
Teachers have traditionally focused on academic skills and while these skills are important, sacrificing others can prevent kids from improving their brain skills. Research shows that creativity and sports should still be encouraged and challenged for kids. This helps them to gain a broader repertoire of brain skills in life. Other important brain skills are those in linguistics, music and art.
Belief in Yourself for Better Intelligence
Research suggests that if kids have a lack of confidence in their own intelligence, they are less likely to improve their intelligence. Children who see themselves as being of lower intelligence actually prevent themselves from learning and accessing new information, talents and skills. If teachers can educate children on how learning improves brain skills, children will be more open to enhancing their intelligence.
Creativity for Learning
Studies suggest that the 'fun' part of learning is present in the earlier years primarily because teachers use creative ways to teach basic skills. Although it isn't expected that all learning will have exactly the same enjoyment, there are still ways to make learning more interesting for older students.
The games and activities commonly used in younger children are often replaced with a very direct, sequential form of teaching. Researchers suggest that instead, teachers can still incorporate contests and other creative ways to quiz students and engage them in learning. The more interactive the style of teaching, the more likely it is that students will improve their brain skills.
By using creativity, children are more likely to be alert and learning is interactive, which allows students to develop more brain skills in the areas of socialising and emotional intelligence. They are also more likely to enhance their academic skills as well.
Developing Social Skills
A sometimes forgotten area that remains important is that of social skills. Teachers may not realise that they have the ability to support the development of social skills in children. These skills do not simply come by interacting with other children.
One way a teacher can help is by identifying talents and skills already present in children. Then, finding ways to celebrate these skills in a more public and inclusive way can bring positive recognition to the child. It can also prompt discussion and interest in the particular skill. Better still, it shows that the child is worthy of interest, which may be more helpful for children who are socially isolated.
Teachers for Success
Children have a seemingly endless capacity to learn new things, but it is up to people like teachers to help make this happen. Using the right tools to improve brain skills can mean that a teacher helps each child to reach his or her potential.
You might also like...