Better Brain for Better Grades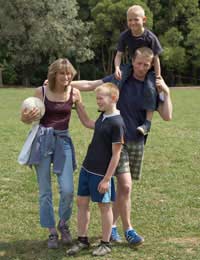 For those who are students, getting better grades can seem like an impossible task sometimes. With the challenges of school, just paying attention in class or studying isn't always enough. But what if there were other ways for students to improve their grades? For parents and students who have ever wondered if this is possible, then you can now rest easy. Research suggests that a person can take action to improve their grades - literally.
Getting Exercise for Better Marks at School
Scientists think that those students who are active and get regular exercise are not just exercising their bodies, but also exercising their brains as well. In turn, they may be able to improve their marks at school, whether that's through projects, tests or other types of learning.
Getting Active to Perform Better
In the most recent study, researchers found that when children played intensely for approximately half an hour each day, they were better at organising their schoolwork as well as doing project work and learning traditionally 'difficult' subjects such as maths.
Academically Disadvantaged Children
What does this mean for children who aren't active? Researchers think that if kids don't get enough activity, they are essentially going to be at a disadvantage when it comes to school performance.
As children today are actually less active and obesity rates are sky-high, we could be looking at an entire generation of underachieving students. This, according to researchers, is of particular concern.
Do Any Activity to Get Heart Rate Up
Activities that a child can do are varied enough that there should be something for everyone. In the research experiment, children skipped with ropes, played basketball and did a number of other games or exercises.
They all wore heart-rate monitors to ensure their heart rates were sufficiently raised. They also partook in cognitive testing both before the study and after the study, following on their activities. Testing was primarily for maths and reading skills.
Results showed that the children in the activity group did significantly better at the tests than those who had no activity. Not only that, but those who did forty minutes of activity did twice as well as those who only did twenty minutes of activity. Both groups, of course, fared better than the non-activity group.
What the Brain Tells Us
Brain scans also provided information in this experiment. Researchers discovered that the children who exercised had greater neural activity in the frontal brain regions. The regular exercise nourishes the brain and improves mental functioning.
What Parents Can Do
Researchers worry that with today's child being less active and spending more time at the computer or watching television, not only will their physical health suffer from weight gain, but their mental health can similarly be at risk. Academically, you can help your children by turning off the television or computer and encouraging them to get outside or play an active game indoors.
If possible, try to join them and make it a family time as well. With a bit of effort, you can help your kids improve their brain skills for better grades.
You might also like...