What Do Smart Brains Look Like?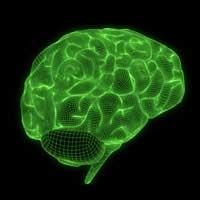 We tend to measure how smart someone is by a number of different factors, whether it is their incredible memory or their impressive ability to figure out a complex problem. These kinds of outward signs are why you probably have friends who are not quite as smart as you are – or ones who are much smarter.
Looking Inside the Brain
But what is actually happening inside your brain? Many people have long wondered just what a smart brain looks like inside. With all our ways of measuring external signs of intelligence and brain skills, finding out what happens inside is similarly important. Now, thanks to some recent research into this area, we have a somewhat better idea of what is going on inside the brain.
Grey and White Matter in the Brain
Researchers think that each of us has a specific pattern in our brain that comprises our grey and white matter. These differences could be the key to how we think as well as how we demonstrate our personal strengths and weaknesses. Differences in brain metabolism and structure can translate to different IQs or even different ways of thinking where two people share the same IQ score.
Different Abilities and Intelligence
Even though a person can enhance their brain skills through a healthy lifestyle and techniques or activities to improve mental functioning, it does still come down to genetics. Different abilities and levels of intelligence come forth due to differences in the brain of one person compared to another.
Brain Activity and Skills
You may already have read studies where activity was higher in one part of the brain versus another. This would likely have translated to an enhanced skill or talent for the study participants in question. Still, many people want to know how a person's brain might look if they demonstrate intelligence in many areas. How does the brain bring together all of these skills and talents? Instead of separating brain activity into small parts, researchers wanted to see the sum of what was happening inside the brain.
Looking at the Entire Brain
Through the use of brain imaging, researchers are now learning how the structure of our neurons and their subsequent functioning can influence the signs of intelligence that we see in those around us. The results are quite intriguing and confirm what researchers have suspected for some time now – our brains do not all look or operate in the same way.
This translates to many different scenarios. For instance, two people with the exact same IQ may be able to solve a complex problem in the same time frame and do so correctly. But their 'formula' to get there could be quite different. These two people may be using a totally different set of brain regions to reach the same conclusion in the same amount of time.
Therapeutic Interventions
Understanding what is happening in our brains is important for helping researchers find new ways to help people with conditions that affect our brain's ability to function. If we can learn more about the grey and white matter differences, there could be potential to one day manipulate our brains to improve problems with everything from memory to focusing.
You might also like...