What Monks Know About Brain Skills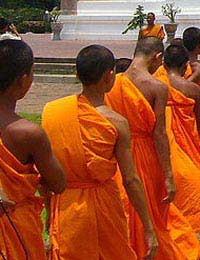 You may think you know plenty about how your brain works and how you can improve its functioning. But did you ever consider that a monk may know something you don't about how to improve brain skills? If this is the first you have heard about monks and brain skills, then you read on.
Meditation and the Brain
Meditation is something usually performed to provide calming and relaxing benefits to the person partaking in the activity. The person will often focus on the 'self' and meditation is performed by many different people. However, it is an integral part of life for Buddhist monks, which makes it particularly interesting and useful to examine for its effects on the brain.
How Meditation Affects the Brain
Even though we know that it is quite a simple question to ask how meditation affects brain skills, the answer isn't as easy! If you think about learning any new skill such as playing the clarinet, for instance, the constant motion that you repeat creates new brain connections in terms of your neurons. In that same light, meditation creates stronger neurological connections in the brain.
There are short-term effects from meditation that are more medically oriented, such as reducing stress and anxiety. But the long-term consequences of meditation relate more to your brain skills. It's thought that meditation enhances brain activity and affects the grey matter in the brain.
Checking Out the Research
One study that looked at monks found that the grey matter was more developed compared to those who did not meditate. Also, the cortical areas relating to visual perception were thicker. Yet another study of monks found they had very high levels of gamma waves, which relate to enhanced brain functioning and activity.
We have seen that meditation can reduce stress and mental health illnesses such as depression. It can also impact our immune systems and other parts of the body. We know that meditation can change our brains and affect functioning as well.
A great deal of the research in this field is looking at how we can better understand meditation and its effects on the brain and our subsequent behaviours. We still don't know exactly how meditation causes changes in the brain but we do know that these changes do occur. Blood flow is enhanced and neural activity is similarly enhanced.
If meditation affects our neurons and their excitation – and these are linked to how we behave and how our bodies function – then it's possible that by changing the patterns of neurons we can impact behaviour and functioning.
Finding Your Way
It isn't to say you have to live the life of a monk and meditate frequently. But by taking time out to meditate, at the very least you can benefit from the calming and focusing effects of meditation. At best, however, you may reap many more benefits from the improved brain functioning that is thought to be connected to the practice of meditation.
You might also like...