What Causes Parkinson's Disease?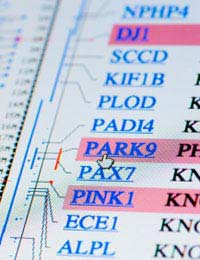 Michael J Fox, Pope John Paul II, Salvador Dali and millions of other people throughout the world have suffered from Parkinson's disease. Although we know a lot about the underlying neurological changes, we still don't know what determines who gets the condition.
Is it Inherited?
Early onset forms of the disease are often inherited, and in a number of families, scientists have identified particular gene mutations that seem to be responsible. But these cases remain the minority. In most cases, a specific faulty gene is not identified. If you have a close relative with Parkinson's, it means your risk of developing the condition at some time is raised, but still overall pretty low, at 2-5%.
Are There Environmental Triggers?
Some studies have shown that Parkinson's disease strikes more often in developed countries, and is commoner in rural areas, and in certain professions. The reasons are unclear, but there is speculation that exposure to environmental toxins like pesticides may play a part. In the 1980s, some Californian heroin addicts started to show signs of parkinsonism (ie similar to those of Parkinson's disease). It turned out that they'd taken drugs contaminated with a chemical called MPTP, which was responsible for their symptoms. From a research perspective, these events led to important developments as it was the first time that a toxic chemical had been shown to cause the type of brain damage that led to parkinsonism, and researchers were then able to simulate Parkinson's disease in animals where it could be studied.
Some of the medications used for treating psychiatric disorders, epilepsy, nausea and high blood pressure can have side effects which include symptoms of parkinsonism, which usually disappear on stopping the drug.
Viruses may also trigger Parkinson's disease or parkinsonism. The movie "Awakenings" was based on the story of victims of the 1918 flu epidemic, who later developed parkinsonism. Similar symptoms occurred transiently in some Taiwanese women after herpes virus infections.
What's Going on Inside the Brain?
The "substantia nigra" and the "corpus striatum" are two parts of the brain that are responsible for controlling smooth, purposeful, controlled movements. Neurones transmit signals between these two areas by releasing a chemical messenger called dopamine. In Parkinson's disease, and in toxin, drug or virus induced parkinsonism, dopamine producing neurones in the substantia nigra are damaged or destroyed. The resulting abnormal neurone firing patterns cause impaired movement. As we age, we all lose some neurons in this area, but most people do not develop movement disorders. Indeed, symptoms of Parkinson's disease only appear once 60-80% of these dopamine producing neurons have been lost. It seems that we require a certain minimum number of functioning dopamine producing neurons in order to control our movements properly.
Recent Parkinson's research has found that there's also loss of some neurons producing a different chemical messenger, noradrenaline. Noradrenaline is important in the sympathetic nervous system, which controls many of our automatic bodily functions, like blood pressure, heart rate and breathing. Loss of noradrenaline producing neurons may explain why some Parkinson's patients suffer from other symptoms as well as movement problems, like fatigue and blood pressure changes.
It's almost 60 years since a Swedish scientist, Arvid Carlsson, won a Nobel prize for pinpointing the biochemical brain changes underlying Parkinson's disease. The understanding that the basic defect was lack of dopamine was critical for the development of dopamine containing drugs to treat the disease. A lot of other very important advances in understanding and treatment followed. But today, we still don't know what the real cause is in most cases of Parkinson's disease. In a few families a specific gene mutation is responsible, and in some cases, a certain external toxin, virus or drug is to blame, but for the vast majority of patients, scientists can only say that the cause is a combination of genetic and environmental factors.
You might also like...