What is Alzheimer's?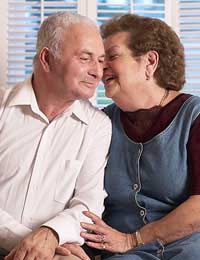 Most of us from time to time have difficulty in recalling the name or birthday of an acquaintance or even of a relative. An appointment occasionally slips our minds or we forget a face. Who hasn't spent stressful minutes or even hours turning the house upside down for the missing car keys that we just knew we'd put in our handbag, but have mysteriously vanished?Although frustrating, such things normally aren't anything to worry about, but in Alzheimer's disease (AD), forgetfulness becomes excessive and constant.
Alzheimer's affects mainly old people, but is NOT just a normal part of getting old.
It is the most common of a group of brain illnesses known as dementias, which seriously impinge on a person's capacity to carry out even the simplest day to day activities.
In Alzheimer's the areas in the brain controlling thought, memory and language are affected, so that in the late stages, a person may fail to recognise or interact with even their nearest and dearest.
How Common is Alzheimer's Disease?
Above age 65 about 2-5% of the population have Alzheimer's and this number rises with increasing age, so that 1 in 5 is affected over age 85.
Over the coming 20 years, as the "baby boom" generation ages, and longevity increases, Alzheimer's will probably become an even greater public health issue.
What to Expect in Alzheimer's Disease
Most old people are a bit more forgetful than they used to be – that's normal age related memory change. But AD tends to start slowly and gradually so at first it can be hard to distinguish. Also, none of the symptoms are unique to AD so a doctor has to fully evaluate any worrying changes in an old patient rather than inappropriately labeling them as AD.
At first, a person may forget about recent activities, or the names of friends, and even family. She may forget whether she took her medicines or turned the gas off that morning. Relatives may notice gradual personality change, as she withdraws from social occasions or becomes apathetic or less spontaneous. A little later, simple maths may be problematic – she may have problems paying bills or finding the right change. She may become argumentative, agitated, or irritable, and may even start to dress inappropriately. These behaviours can be very distressing to family who feel that their loved one's personality is changing in front of their eyes, and they are powerless to prevent it.
Later, as the disease progresses, forgetfulness interferes with daily activities like brushing teeth or hair, recognising familiar places or people and remembering what the month or year is.
Eventually, the patient may lose the ability to engage in simple interactions like conversation, moods may become very changeable and she may seem oblivious to her surroundings. She may lose control of her bowels and bladder and even become totally unable to care for herself. Some of those who develop AD later in life may actually die from other illnesses before reaching the final stages of Alzheimer's itself.
The interval from time of recognition of AD till death may range from 2 to 20 years, with the average being about 6-8 years.
Can Alzheimer's Sufferers Still Enjoy Quality of Life?
Yes. The onset of Alzheimer's does not invariably have to bring only doom and disaster to all concerned. Most sufferers can function reasonably and stay at home well into the course of the disease. Despite problems in some areas, they often keep their capacity for loving and receiving love, and interacting positively and meaningfully with family and friends.
For example, an Alzheimer's patient may find that she can no longer play the piano without mistakes, but may be able to enjoy singing along while others play. She may not be able to manage simple maths any more, but may still derive pleasure from reading a newspaper for many years. Although crossword puzzles and chess are no longer possible, she may take up and enjoy playing golf.
Although there is no cure, there are treatments that can alleviate some of the suffering. Although frustration, anger and despair may be frequently experienced, there is still the possibility of many years of closeness, warmth and positive interactions.
You might also like...