What is Autism?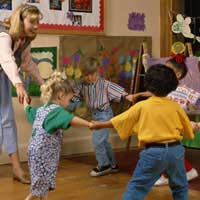 Autism can take on many different forms, but the common underlying thread is a difficulty in making sense of the world. "Classical autism" is the most common of a group of developmental disorders known as autism spectrum disorders.
At the high functioning end is a syndrome known as Asperger's, where intelligence is normal to high, and people are able to achieve successful relationships and careers, despite their social and communication difficulties.
At the other end of the spectrum there are autistic children and adults who are extremely withdrawn from the world, virtually mute, unable to care for themselves, with mental retardation and repetitive, obsessive, even self- harming behaviours. There are also many individuals who fall between the two extremes.
What are the Signs?
The hallmark of autism is impaired social interaction. Parents are usually the first to notice if their baby fails to respond to people, or focuses intently on one object to the exclusion of others for a long period. In other cases, a child may seem to be developing normally until about age three, but then may start to regress and withdraw from the world, becoming indifferent to social interaction, and speaking less and less.
More rarely, regression occurs a few years later. People with schizophrenia may have some behaviours that are similar to autism, but their symptoms appear later, in their teens and they have hallucinations and delusions that are not present in autism.
Autistic children often have communication problems. They tend to start speaking late, and may refer to themselves by name rather than "I" or "me", yet paradoxically, they may fail to respond when addressed by name. The content of their conversation and the manner of delivery may appear odd to an observer – they may speak in a sing-song voice about a narrow range of pre-occupations, without regard to lack of interest in the listener. Non-verbal communication can also be problematic, as they fail to interpret social cues like tone of voice and facial expression.
Repetitive movements, like rocking or twirling, and self-abusive behaviour, like biting and head banging are seen in some autistic children.
Interactive and imaginative play are also severely restricted.
There is sometimes a reduced sensitivity to pain, along with enhanced sensitivity to other sensory stimulation, like touch which may lead to an aversion to being hugged.
Up to 75% of autistic individuals also have additional mental handicaps. They commonly develop epileptic seizures in adulthood, and have a high risk for attention deficit disorder, Tourette's syndrome, and other disorders.
How is Autism Diagnosed?
Screening by both doctors and parents is used to detect the following core behaviours which may suggest that autism is present;
Problems making friends with peers
Problems holding conversations
Poor imaginative, creative and social play
Repetitive, stereotyped or unusual language
Abnormally intense, highly focused, restricted patterns of interest
Preoccupation with particular subjects or objects
Routines or rituals lacking in flexibility
When children are mildly affected, or have severe handicaps that mask their autism, then the diagnosis may be missed. Since the disorder is complex, and there's no easy blood test or scan to confirm the diagnosis, assessment needs to be comprehensive, usually by a multidisciplinary team. This may include a psychologist, psychiatrist, neurologist, and a speech therapist. If speech is delayed, then it is vital to check that a hearing problem is not to blame for the problems that may seem autistic.
Is There an Autism Epidemic?
Between 1990 and 2007, reported rates of autism rose very sharply, with the diagnosis being about 10 times commoner now than it was then.
Most professionals believe that the rates have risen because there is better recognition and understanding of a condition that has probably always been with us. The definition of autistic spectrum disorders has also been expanded in recent years, including, for example the high functioning individuals with Asperger's syndrome.
It may also be that as people learn more about this brain based disorder, there is less stigma attached, and more openness, so that health professionals and families may be more willing to label a child as autistic, rather than mentally handicapped, especially if they believe that such a label might help the child to get the educational services he needs.
You might also like...