Play Therapy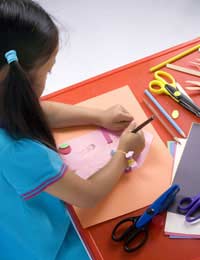 The underlying idea behind play therapy is that children express themselves best through the language of play. Most forms of adult psychotherapy involve talking, but children in the playroom may find they are able to communicate what they think and feel more naturally using toys, games, paints and activities rather than with words alone. Play therapists are trained to understand and communicate with children through the medium of their fantasies and symbolic play.
Some History
Play therapy was first developed early in the 20th century by some of the founders of child psychotherapy, such as Anna Freud and Melanie Klein. The initial suggestion was that a child's spontaneous play was a substitute for the free association techniques used in adult psychoanalysis. In the 1970s the idea of non-directive play therapy was developed on the premise that "No-one ever knows as much about a human being's inner world as the individual himself". Nowadays there are four training courses for play therapists in Britain, and the approach is widely used, and has been validated by a significant amount of research.
When is Play Therapy Used?
Studies have shown that play therapy is effective for a wide variety of social, emotional, behavioural and educational problems, including:
ADHD
Depression
Temper tantrums
Aggressive behaviour
Sleep disturbances
Post traumatic stress disorder
Sexual or physical abuse issues
Neglect
Bereavement
Learning difficulties
Anxiety
Phobias
Conduct disorders
Low self esteem
Poor social skills
Impulsivity
Divorce issues
Coping skills issues
How Does it Work?
Play therapists usually meet with the child alone for most of the sessions, while maintaining communication and feedback with the parents. In order to provide both child and parents with stability and consistency, sessions are scheduled for the same time each week and are held in a welcoming environment that becomes familiar. Many children may at first be unable or unwilling to acknowledge what their problem is.
The goal of play therapy is to allow them the opportunity to work through, heal and move past the difficult times in their lives by using dolls, puppets, paints or other toys to say how they think and feel. As the child plays, the therapist may recognize patterns and underlying themes or ways of using the toys that are important to the child.
Over time the therapist can help the child to make meaning from the play. The theory is that the symbolic play that the child creates reflects which issues are important to her and are relevant to the difficulties. The therapist helps her to learn about herself and her surroundings and to learn new skills, how to handle anger and frustration, work through difficult times and increase her self esteem and ability to communicate.When a child shows improved functioning at home, at school and with friends, the focus of the final sessions shifts away from examining problems and towards the process of ending treatment.
Play is Good for the Brain
Most people understand intuitively that play is good for us – adults as well as children usually feel the benefit. Studies involving brain scanning have shown that more brain regions light up in response to metaphor than to any other form of communication that forms new neural pathways. Childhood fantasy play is absolutely packed with metaphor, and new experiences that literally help to develop the brain. The old saying really sums it up - "All work and no play makes Jack a dull boy".
You might also like...