What Causes Dyslexia?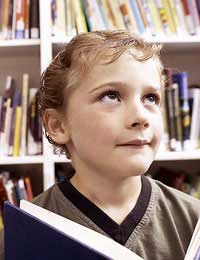 The word dyslexia comes from the Greek language, one of mankind's most ancient languages and it seems likely that the condition has been around for a long time too. Spoken language is believed to be an innate skill of the human brain, derived from millennia of evolution. But reading was probably invented around 5,000 years ago, so, as far as human history goes, it's relatively new, and as such is not an inborn ability like speech, rather one that must be actively taught and learned. This may be the reason why about 5% of children's brains seem to be hardwired in such a way that they struggle to acquire the reading skills that the other 95% master relatively smoothly in societies with universal education.
Inheritance
Dyslexia runs in families, and there is often left handedness somewhere in the family as well. So it seems that genes are involved, but nobody knows which genes yet, and inheritance cannot be predicted.
What's Happening Inside the Dyslexic's Brain?
Improved brain scan technology has helped researchers to reveal some interesting avenues of research into dyslexia. For example, clusters of cells that lie on the surface of the left and front brain (areas that are important in reading and writing), in non dyslexics have been found to lie beneath the surface in dyslexics. Theories have been suggested that these cells (which are called ectopic) failed to make the journey that they should have when the foetal brain was developing before birth. The magno-cellular system is a part of the brain which is involved in our capacity to see moving images. Some studies have shown that this part of the brain may be smaller in dyslexics, which may lead to difficulties in the process of interpreting the images of words that the eyes see.
EEG (electroencephalogram) involves application of electrodes to the head, then interpretation of the measured electrical activity, or brain waves. When a child is beginning to learn to read, EEG activity is greater on the right side of the brain. In a proficient reader, there is more activity on the left side. In dyslexics, there are different variations in left-right activity. It has been suggested that dyslexic children have to use their right brain in language work which the left brain handles in non dyslexics. As the right brain is not believed to be hard wired for language work, after the beginning stages, dyslexics may have to work far harder than non-dyslexics to acquire similar reading skills.
PET (positron emission tomography) scans have been taken of the brains of dyslexics and non-dyslexics during reading. In the comparison, an area of the left temporal lobe is found to be far less active in dyslexics, suggesting that abnormalities in this region may be involved in causing dyslexia.
Can Hearing Problems Contribute to Dyslexia?
When children have repeated colds and ear infections, if appropriate measures are not taken to correct the situation, their hearing may be impaired, and this may, in turn affect their development of phonological awareness (sensitivity to sounds as they relate to the letters of the language).
Having said that, the degree to which hearing problems can contribute to dyslexia is controversial. There is evidence that in general, dyslexics do worse at lots of hearing and listening tasks than non-dyslexics. But the problems are often not related to speech perception, so the data are hard to interpret. It seems that hearing problems may contribute to the dyslexia only in a small subset of dyslexics. Most researchers believe that for the majority of dyslexic children, the important underlying defect lies in the specific part of the brain that deals with phonemes (sounds of words).
Is English to Blame?
Brain scanning studies have shown that the connections between different areas of the brain that deal with language processing work differently in dyslexics compared to other people. They lack the capacity to process phonemes (language sounds), so they can't draw inferences about words in the way that most people do automatically. When English speaking children learn to read, they effectively have to individually and consciously commit to memory the over 1,100 ways that written letters symbolise 40 sounds. The language is notorious for its inconsistencies, as evidenced by words where the same letters are pronounced differently like cough, bough, dough and tough; or chat, chute and scholar. On the other hand, sometimes different letters are pronounced the same way, like the "sh" sound in ship, initial, and machine.Children learning to read and write in English take a longer time to acquire their language code than do children learning most other languages.
This is probably the reason why there are over twice as many dyslexics identified in English speaking countries, compared to countries with simpler languages, like Italian, where there are 33 sounds, spelt with 25 letters. This means a more or less one-to-one relationship between letters and sounds, and the rules for pronunciation and stress are consistent.
Studies have shown that dyslexic Italians are better at reading their native language than are dyslexic English speakers, despite similar poor scores on standard tests for short term memory of verbal sounds, and similar abnormalities in how their brains process information, according to PET scans. In fact, many Italians may live their whole lives in ignorance of the fact that had they would have been dyslexic, had they lived in a country whose language had a more complicated phonology!On a similar note, a fascinating case was reported of an American child who grew up bilingual in Japan and turned out to be dyslexic in English but not in Japanese, a language whose whole writing system is fundamentally different from English, yet phonologically simpler.
So it seems that not just genetic roulette, but also the luck of the geographical draw can greatly affect the life of someone who happens to be born with the potential for dyslexia.
You might also like...