Tourette's Syndrome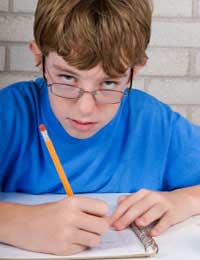 In 1885, a French neurologist called Dr Georges Gilles de la Tourette described a case of an 86 year old French noblewoman who suffered from repeated twitches, jerks and vocalizations. This was the first recorded patient with the condition that is now known as Tourette's syndrome.
Who Gets Tourette's Syndrome?
Many cases run in families, but inheritance seems to be complex, and no-one knows why some people with the genes for the syndrome develop Tourette's, while others don't. It's about 4 times commoner in boys than in girls.
What are the Symptoms?
The classical symptoms of Tourettes are known as motor and vocal involuntary tics. Early symptoms are often noticed in childhood, between ages 7 – 10. Symptoms are often worst in the early teenage years, with gradual improvement starting in the late teens and continuing into adulthood. In most people tics come and go over time, but in a minority of patients,( about 1 in 10), the condition becomes progressively more disabling through the years.
Motor Tics
Early motor tics may be simple, such as eye blinking, shoulder shrugging, facial twitching or mouth movements. All simple tics are repetitive, short, sudden movements involving a few muscle groups. In many people, simple tics remain mild and eventually disappear. But some people go on to develop complex motor tics, which are coordinated movements of several muscle groups. For example, blinking and facial grimacing may be combined with shoulder shrugging in a coordinated and repeated pattern.
Vocal Tics
Similarly, vocal tics may be simple at first, involving throat clearing, snorting, grunting or coughing. Complex vocal tics may involve repeated words. In a phenomenon known as coprolalia, the words repeated, or screamed out are obscenities, and in echolalia, words or phrases used by others are repeated. These symptoms are actually quite rare, although coprolalia in particular is often misrepresented in the media as constituting classical Tourette's. When they occur, they can obviously be very disruptive to everyday life and social functioning.
Are Tics Controllable?
Tics are, by definition, involuntary. That means that the movements or vocalizations aren't deliberate, and usually can't be controlled. In some cases, a sensation in the muscle group involved, known as a "premonitory urge" may occur before a tic. Performance of the tic may relieve the urge. Tics often worsen under conditions of stress, pressure anxiety and excitement. That's why children with Tourette's may find that they are at their worst at school, surrounded by people who don't understand their unusual behaviour. In contrast, under calm circumstances, and during focused activity or sleep, tics often improve. Some people learn to camouflage or suppress their tics, but then they may find that tension builds up to the point that they have to express the tic.
What Other Conditions Occur with Tourette's?
Some neurobehavioural disorders such as ADHD (attention deficit hyperactivity disorder) and OCD (obsessive compulsive disorder), are commoner in people with Tourette's. The reason for this is not clear.
What Treatments are There?
Tourette's syndrome is often mild, and no treatment is needed, but advice and support can help people affected, and their families to learn to live with the condition. In more severe cases, where tics impair everyday functioning, there are several medicines that can suppress the symptoms. Psychotherapy can also be helpful.
What's Going on Inside the Brain?
The underlying cause of Tourette's is not understood, but recent brain imaging research points to abnormalities in a number of brain regions, such as the cortex, frontal lobes and basal ganglia. Imbalances in the chemical messengers, like dopamine and serotonin that carry information between neurons may be at the root of a number of neurological and psychiatric conditions, including Tourette's. Scientists hope that future research will bring both better understanding of what's going on in the brain in this condition, and how to combat it.
You might also like...