Fight or Flight: Coping with Danger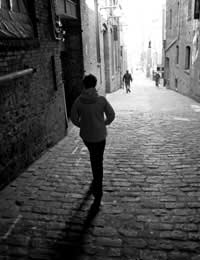 You're walking home late at night down a dark deserted street, when you think you hear footsteps behind you. Or you're a business man on your way to a critical meeting with a big new client. You know that closing this deal could make or break your career. Maybe you're desperately in love; you've bought the ring, the red roses and plied her with champagne. Now you're down on one knee, wondering what she'll say when you pop the question.
These scenarios are very different and don't all involve danger, but in all of them, your brain will probably cause your entire body to go into a state of heightened alertness known as the "fight or flight reaction"
What Are the Psychological and Physical Changes?
When you're faced with a stressful situation, you'll probably notice that your heart starts to beat faster, you breathe more rapidly, your skin gets cold and clammy, your mouth feels dry, your pupils dilate and the hairs on the back of your neck stand up. There are also some changes you don't notice, like reduced blood flow to your kidneys and digestive system. If you're really terrified, you may even lose control of bladder and bowels.
The brainstem is situated at the base of the brain and controls a lot of our automatic responses and life sustaining functions, like breathing, which we do without conscious thought. When you perceive danger, a part of the brainstem called the hypothalamus sends a nerve message to your adrenal glands and hormones like adrenaline and cortisol are released into the bloodstream, where they cause the dramatic changes described above.
The overall effect of these changes is to sharpen all your senses and enable you to perform optimally in a life threatening situation. All your blood is diverted to your muscles, while non essential systems are shut down. Surface wounds bleed less, as skin blood vessels constrict. The faster, deeper breathing brings more oxygen into the blood and this helps the muscles to work faster. Opening of the bladder and bowels reduces the need for other internal activity, lessens your weight if you flee and may put off attackers. If you end up in a fight, you'll hit harder, jump higher and think and dodge faster than usual. In case of flight, you'll run faster, see better, hear more acutely.
Why Do We Respond This Way?
All of these responses are thought to be primitive ones, present in the human race since the prehistoric era when predators lurked round every corner. In those days, stress very often meant life threatening danger, which we would only survive if we either won a fight or managed to escape. The same instinctive responses are seen in many animals, for example when a cat's hairs stand on end as a dog approaches, making it appear larger and less vulnerable.
Nowadays, stress is more often due to an argument with a spouse, a big exam coming up, a criticism from the boss, unrequited love and a host of other things that don't actually involve physical danger. We know this consciously, but the instinctive part of our brain hasn't caught up yet to human progress and responds to stress by triggering our bodies to fight or flee from the saber tooth tiger that isn't there.
If we're alone in a dark alley way with a pursuer approaching, the heightened awareness and physical abilities may indeed be of value. In some other, non dangerous situations, like examinations, or public performances, or even tricky business negotiations, the enhanced thinking and perceptions may help us to excel, even though we're not actually fighting or fleeing. But in other circumstances, fight or flight is not always so beneficial.
Can Fight or Flight Damage Your Health?
Panic attacks are a type of fight or flight response. The physical symptoms are the same, but seem to come out of the blue, with no obvious external threat or danger. This can make the fear even worse, since when a panic attack is impending the danger feels palpable, yet is invisible.
Fight or flight mode alters our brain chemistry so that our rational thoughts are bypassed, but you hit a dead end if you don't know who to fight or where to flee. Even for people who don't have panic attacks, there are those who believe that frequent fight or flight responses won't do you many favours in the long run. It's been suggested that the high levels of stress hormones released during fight or flight may contribute to increased rates of high blood pressure, heart disease, autoimmune conditions and headaches. But on the other hand, it seems that the instinctive fight or flight phenomenon is responsible for most of the greatest acts of heroism that we can imagine, like firemen plunging into blazing buildings to rescue people and mothers finding the strength to lift their children from crashed cars. So maybe we shouldn't knock the brainstem too much.
You might also like...