Meditation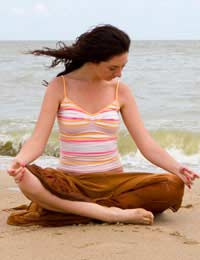 Sceptics may think that meditating yogis are just sitting staring into space and doing nothing. But modern brain research has led to some startling revelations about how the ancient traditional Eastern disciplines of meditation may impact in a very real and tangible way on brain structure and function and our overall health.
What is Meditation?
There are a number of different types of meditation techniques, most originating from various ancient religious and spiritual sources. They are all concerned with intentional training of attention and concentration. For most types of meditation, a quiet place, with few distractions is preferred and a specific, comfortable posture is adopted. There are a few different techniques for focusing attention:
In transcendental meditation, a word or phrase, known as a mantra is repeated over and over.
In mindfulness meditation, which comes from Buddhism, concentration on the sensation of breathing is used. When distracting thoughts appear, the meditator is taught not to suppress them, but to gently let them go, while returning attention to the focus.
Nowadays, meditation is widely used outside of its traditional religious and cultural settings, for physical and psychological health enhancement.
What is Meditation Used For?
The goal of meditation as a complementary therapy is to promote stability and mental calmness by consistent daily practice. Practitioners have seen remarkable results in a variety of situations. It's been used to treat anxiety, pain, depression, stress, insomnia, self-esteem problems and problems associated with chronic diseases like cancer and heart disease.
In recent years, a number of scientifically conducted studies have confirmed what the meditators have been saying for years – that in all of these situations; it really has a measurable effect. For example, mindfulness meditation has been shown to decrease subjective experience of chronic pain from gastrointestinal reflux, to provide relief from the skin condition psoriasis and to help with fibromyalgia. These effects are perhaps to be expected, on an intuitive level, as these conditions are all known to have a psychological or stress related component. Somewhat more surprising are the results of studies on the effects of meditation on blood pressure, insulin resistance, heart disease and menopausal symptoms. In all of these conditions, small studies have shown that meditation can help.
Even if you're healthy, it seems that meditation can improve your mental powers. In one study of mental acuity, subjects were tested before and after 40 minutes of sleep, meditation, reading or light conversation. They had to watch a screen and press a button whenever an image popped up. Remarkably, only meditation immediately improved performance. Sleep had a similar effect, but only after about an hour to recover from grogginess.
Meditation and the Brain
Regular meditators say it restores their energy and sometimes claim to need less sleep. Buddhist monks who devote much of their lives to disciplined meditation claim that it brings greater happiness, serenity and loving-kindness.
So some neurologists have studied Buddhist brains, to see just what effect all that meditation has had. Scanning methods like functional MRI and PET scans suggest that emotions are mediated by two brain regions – the prefrontal cortex and the amygdala. Persistent right prefrontal activity is associated with negative emotions, while positive emotion is related to left prefrontal activity. Sure enough, in the brains of Buddhist monks, the left prefrontal area lights up consistently, not just when they're meditating. According to the scans, they really are happy all the time!
Give Your Brain a Work Out!
Other studies have looked at the physical structure of the brain in regular meditators and shown that just like we can build up our body musculature by going to the gym, we can also physically enlarge certain brain areas by persistent meditation. Areas of cerebral cortex associated with attention and sensory processing actually seem to be thicker in people who have spent time meditating. The growth seems to result from wider blood vessels and increased branching and connecting rather than new neuron growth. There have even been suggestions that a small but important increase in working memory produced by meditation may protect against age related memory loss.
The best news, if you don't happen to be a Tibetan Buddhist monk who's spent your whole life meditating, is that significant brain changes were seen even in Westerners who had been meditating for as little as 40 minutes a day. It seems that you don't have to be the Dalai Lama to benefit from meditation!
You might also like...