Supplements to Focus Your Mind?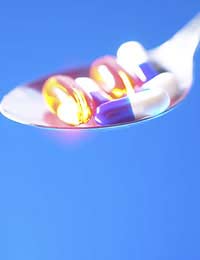 With all the supplements on the market today, it can be a huge challenge to sort through all of the hype and claims about how to improve your health. While many supplements rely on exaggeration and poor research to support them, others have more positive research results to suggest they could benefit your health.
In particular, some supplements show evidence of helping people to improve their focusing and mental clarity. In fact, these may potentially even be of aid to those who suffer from disorders such as attention deficit hyperactivity disorder that impact their ability to focus and essentially 'sit still'.
Omega-3 Supplements
While the evidence is still very mixed and inconclusive, there is some suggestion that omega-3 supplements can be helpful in relieving attention deficit hyperactivity disorder (ADHD) in some children. These children usually struggle to stay focused and complete tasks and they also struggle with concentration and controlling of impulses.
There have been some suggestions that omega-3 supplements can similarly benefit adults by improving concentration but as with the studies on children, the jury is still out on whether these are effective. It would also appear that where they could help, this will not necessarily be for everyone.
The B Family of Vitamins
B vitamins play an important role in your nervous system. A deficiency of B vitamins could affect your focusing although it's not clear whether supplementation for someone who is already obtaining adequate B vitamins would help.
During times of stress or when you may not be eating a balanced and varied diet that contains sufficient B vitamins, supplementation could be helpful in restoring your focus and mental clarity. B vitamins are generally best taken as a full B complex although you should be careful with niacin, which can cause an uncomfortable although not a dangerous flush in certain amounts, depending on the person.
Tyrosine and Tryptophan
Tyrosine and tryptophan are amino acids that play a role as precursors to your neurotransmitters. These help your brain to transfer electrical impulses to cells such as neurons.
Also important to consider is that tryptophan is a precursor to serotonin, a neurotransmitter. Serotonin plays a role in mood and cognition although it's still not clear whether supplementing with tryptophan or tyrosine will help you to focus. It's probably a good idea to eat a diet that has adequate amino acids – meaning sufficient proteins.
Using Supplements Wisely
You do need to keep in mind that supplements are not a replacement for a healthy, balanced diet that includes a wide range of nutritious foods. Along with exercise, a good diet is your best approach to maximising your ability to focus and perform sustained work on a task at hand.
There is a great deal of research and debate around the use of supplements to enhance brain functioning, which means that it's prudent to use supplements with care and not expect too much from them. However, they may provide support for enhanced focusing and could offer a bit of an advantage when used with a good dose of common sense.
You might also like...