How Smoking Could Thin Your Brain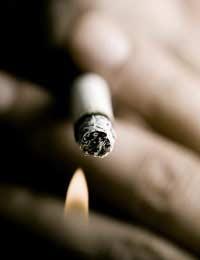 There are many reasons to quit smoking and a new study may now be providing yet another one. Researchers recently found that smokers were more likely to experience 'thinning' of the cerebral cortex. For smokers, this could influence a number of higher cognitive functions, reducing their brain skills.
What is the Cerebral Cortex?
The cerebral cortex is an important part of your brain that guides a number of key high-level capabilities. This ranges from language and speech to memory and the filtering and processing of data.
As you age, it's normal to experience a reduction in the thickness of this area of the brain. The consequences of this reduced thickness is thought to be a lowered level of intelligence and poorer cognitive abilities. Yet, how might the thickness be impacted for people who are smokers?
Effects of Smoking on Your Brain
To answer this question, researchers made a comparison between the brains of smokers and the brains of non-smokers. For accuracy purposes, they made sure that none of the participants had ever suffered from a mental health illness, which could have influenced the results.
Cortical Thinning Due to Cigarettes
They found that in people who were smokers, there was thinning in the left medial orbitofrontal cortex. In addition to this finding, researchers also discovered that the cortical thickness was linked to the number of cigarettes a person smoked each day.
Further to this finding, there is an association between the cortical thinning and the overall exposure to smoke in a person's lifetime. This translates to a finding that the more cigarettes a person smoked, the more they experienced this cortical thinning in their brain.
Other Links to Harmful Substances
This finding is also line with previous studies that suggested drug addiction affected the brain in a similar way. It seems that whether it's smoking or drugs, there is perhaps an association here relating to addictions.
Addictions and Brain Thinning
This part of the brain that experiences thinning is thought to relate to the control of impulses and also to reward processing and the ability to make decisions. There is hope that moving forward from this study we can find a common mechanism to help people with all addictions, not just those who smoke.
Cumulative Brain Impact
Overall, the study seems to suggest that smoking has somewhat of a cumulative effect. The longer one smokes and the more they do so, the greater the impact on the brain. How this relates to secondhand smoke is another potential area of future research as well.
Programmes to Quit Smoking
The study results support the premise that establishing early intervention is key to prevent people from taking up smoking in the first place. This is particularly true in terms of targeting young people who start smoking and end up accruing a lifetime of damage.
While the damage from smoking in terms of lung cancer is widely publicised and acknowledged, the findings relating to cognition are still new. There is much we clearly do not know regarding how smoking affects the brain. For now, however, the evidence suggests that smokers have yet another reason to quit smoking.
You might also like...